I'm a cancer survivor, I have received acupuncture for several years and the treatments have tremendously helped me in improving the quality of my life.
- Jeanne Clementi
---
I have seen Dr. Liu over two years, I'd say acupuncture has greatly helped my arthritic pain in my hands, neck and lower back, I am now able to enjoy a better and healthier life!
- Judy Hertzfeldt
---

As a long time T'ai Chi practitioner, I find that twice monthly acupuncture sessions provide a complimentary and preventative balance to my health and lifestyle. Everyone at Milwaukee Acupuncture and Health Center is courteous and professional. I often recommend their services to my students.
- Deb Solis, M.F.A
---
I have fibromyalgia and this place rocks! I've been coming here for over 6 months and I'm 80% back to normal. Each visit is adjusted towards the patient's needs at that time and an approach is created for full mind, body, and soul. The staff is super friendly and Dr. Liu knows his stuff. He studied in China and is so delightful to work with. If you have pain, go in for a consultation today.
- Shannon Steffen
---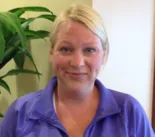 I had been having neck and shoulder pain for the past ten years, it affected my driving, sleeping and daily activities. I had tried many different things with no ideal results. after receiving treatments at Milwaukee Acupuncture and Health Center I am feeling great! This the only treatment that worked for me.
- Patty Mortimer
---
Fibromyalgia top
I'm 57 years old. About 25 years ago, I started noticing pain in my joints, primarily in my lower back, knees and elbows. As the years passed, I noticed periods of intense pain. In 1988, I saw a doctor for pain my forearms and legs. After some testing, which showed nothing, he came up with a diagnosis of Fibrositis. That diagnosis is no longer used; it has been replaced with Fibromyalgia. In 1996, I started getting intense pain in my feet. The podiatrist found nothing in X-rays. I have been wearing orthotics ever since.

I did some research of my own, and decided I probably was suffering from Fibromyalgia. I went to a rheumatologist, after several hundred dollars, and several weeks with blood tests etc, he officially diagnosed it as Fibromyalgia. I was also diagnosed with disc disease in my lower back. The nerves branching out form the spinal cord are being pinched by the vertebra and disc.

Over the years I noticed my work suffered in times of intense pain. In fact, as the years passed, the periods with out pain became less frequent, and were considerably shorter in duration. As of 1999, I was in pain pretty much all the time. It was so bad, I had trouble doing the things I wanted and loved to do. Last year I had the opportunity to retire, and this condition was instrumental in helping my make up my mind. Now I worried if I'd have the time and health to enjoy retirement doing what I like most. My hobbies include: traveling, hiking, biking, trout fishing, hunting in the mountains, outdoor photography, canoeing, etc.

Last August, at the urging of my wife and daughter, I make an appointment with Dr. Liu. I don't mind saying, I was skeptical. I didn't think it would help, but I'd try anything to feel better. It took about one month of treatment before I started to notice much improvement. Gradually, the pain became less intense, and I was starting to have periods without pain. My energy levels have increased dramatically. It was working, and is still working! I still have some pain, but it is under control, and I am doing the things I want to do. My insurance doesn't cover acupuncture, but what they have covered (at much higher cost) didn't work at all. I have no problem paying for the treatments. They are certainly worth it to me.
— Bob E.
---
Fibromyalgia top
.