Treating Pain at the Milwaukee Acupuncture and Health Center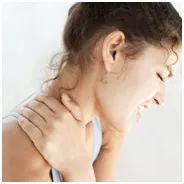 Clinically, there are three types of pain classified in nature. First, psychogenic pain which is very occasionally seen due to a disorder of the mind. Secondly, neuropathic pain which is as a result of actual or potential damage to either the peripheral or central nervous system, for example, diabetic neuropathy and trigeminal neuralgia, commonly described as burning, tingling or shooting sensation. Third and most commonly, nociceptive pain which is caused by the flare-up of sensory nerve receptors in the skin, muscles or internal organs, such as This kind of pain typically tends to lead to chronic persistent pain.
Standard medical treatments for pain include pain-killing drugs, muscle relaxants and tranquilizers. These medications only mask pain without solving the underlying causes but with side affects which may cause other health problems. Cortisone injections or surgery are also optional.
At the Milwaukee Acupuncture and Health Center, we offer a holistic approach to pain. Based upon each patient's specific condition, an individualized treatment plan will be selected from a vast array of modalities for the control of pain. For example, acupuncture in different needling techniques can effectively block pain signals, reduce tissue inflammation, increase blood flow and normalize nerve sensation. NeuroHormone Electrotherapy targets at the rebuild of the homeostasis of balance of the body by enhancing the neurochemicals of the central nervous system. Precision Neuromuscular massage concentrates the relief of muscular discomfort and limited range of motion (flexibility). These natural solutions demonstrate extreme effectiveness in pain management. In addition, exercise and lifestyle changes will also be emphasized. The following conditions are commonly treated at our center:
Arthritic Pain
Back/Neck Pain
Cancer Pain
Carpel Tunnel Syndrome
Elbow Tendonitis (Epicondyliits)
Fibromyalgia and Myofacial Pain Syndrome
Frozen Shoulder
Headache /Migraine
Hypochondriac Pain/Intercostal Pain
Knee Pain
Migraine headaches
Orthopedic Injuries
Sciatica
If you are suffering with pain and it has been affecting the quality of your life, the treatment you have received offered you inconsistent or no result, please let us find a natural solution to help you return to a healthier and happier lifestyle. To schedule a consultation please call our center at (414) 727–4640.