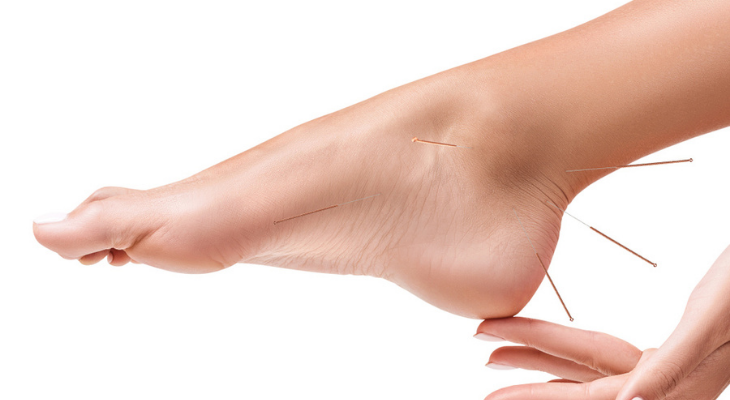 Acupuncture Could Help Ease Plantar Fasciitis Symptoms
Do you experience stabbing pain in your heels when you first wake up? You might have plantar fasciitis, one of the many conditions that can be treated with acupuncture.
All About Plantar Fasciitis
If you run your hand along the sole of your foot, you'll feel a band of tough tissue called the plantar fascia. The fascia connects your toes to your heel bone and provides support for your arch. Plantar fasciitis occurs when the fascia becomes irritated and inflamed. If this happens, you'll feel pain at the bottom of your heel. Common causes of plantar fasciitis include:
Weight Gain. Excess weight may stress the fascia, triggering inflammation.
Exercise. Running and other forms of exercise that increase pressure and stress on the feet can raise your risk of developing plantar fasciitis. Overdoing it can lead to plantar fasciitis and other overuse exercises. It's best to gradually increase the length or duration of your workout to avoid injuries.
Worn Out Shoes. Wearing shoes that are worn out or don't offer enough support may be a contributing factor in the condition. Although your athletic shoes may look perfectly fine, the padding inside may become compressed after months of wear.
Foot and Ankle Problems. High arches, flat feet, or Achilles tendinitis can increase stress on your plantar fascia and cause irritation.
Standing Too Much. Does your job or hobby keep you on your feet for hours at a time? Teachers, retail employees, and other people who stand for long periods are more likely to experience heel pain caused by plantar fasciitis.
Your age can also be a factor in plantar fasciitis. The condition is commonly diagnosed in people who are between 40 and 60, according to the Mayo Clinic.
Plantar fasciitis causes a burning, aching, or stabbing sensation on the bottom of your heel. The pain is most noticeable first thing in the morning, after exercising, or when standing or walking after you've been sitting for a while.
Treating Plantar Fasciitis with Acupuncture
Plantar fasciitis symptoms don't go away in a few days. In fact, it may take many months for your heel pain to get better. If taking pain pills for months doesn't sound appealing to you, you'll want to consider acupuncture. The treatment offers a completely natural way to relieve your symptoms. A literature review published in the Singapore Medical Journal in 2017 revealed that people who had four to eight weeks of acupuncture treatment reported a significant reduction in plantar fasciitis pain.
In a study that appeared in Evidence-Based Complementary and Alternative Medicine in 2011, researchers discovered that stimulating the PC7 acupoint with acupuncture needles eased plantar fasciitis pain. The acupoint is located in the wrist and is often used to treat headaches and chest and stomach pain. Your acupuncturist may use this point in addition to points around your feet and ankle or other parts of your body during your treatments.
Acupuncture treatments improve your symptoms by:
Reducing Inflammation. When your plantar fascia remains inflamed for months, it's difficult to control pain. Fortunately, acupuncture treatments offer an effective way to reduce inflammation.
Intercepting Pain Signals. Acupuncture treatments may prevent pain signals from reaching your brain. If the brain doesn't receive the signals, you won't feel pain.
Increasing Circulation. Good blood flow is essential for healing after an injury. Unfortunately, inflammation can limit blood flow to the injured area. Acupuncture treatments help restore normal blood flow and promote healing.
Relieving Pain Naturally. Treatments prompt your body to increase its production of endorphins, hormones that improve your mood and relieve pain.
Are you tired of living with heel pain? Acupuncture offers all-natural relief of plantar fasciitis and other painful conditions. Contact our office to schedule a convenient appointment.
Sources:
Mayo Clinic: Plantar Fasciitis
NCBI: Singapore Medical Journal: How Effective Is Acupuncture for Reducing Pain Due to Plantar Fasciitis?, 2/17
Evidence Based Acupuncture: Acupuncture as a Therapeutic Treatment for Plantar Fasciitis
American Academy of Orthopedic Surgeons: Plantar Fasciitis and Bone Spurs
Evidence-Based Complementary Alternative Medicine: Acupuncture Treatment for Plantar Fasciitis: A Randomized Controlled Trial with Six Months Follow-Up, 2/15/11